SHAH ALAM, AUG 17:  National keirin expert Azizulhasni Awang wants Terengganu Menteri Besar Ahmad Razif Abdul Rahman and other related parties to open their eyes to his recent success at the Olympics.
He created history by becoming the first national cyclist to win a medal in the Olympics when he won the bronze at the Rio Olympic Velodrome.
"Fatehah andIm would like to thank Datuk MB anyway, although he refused to assist us, two Terengganu-born kids, who are representing the country on the global and Olympic level.
"Thank you for refusing to help us purchase roadbikes for our use in training for the Olympics although we sent in proposals more than a year ago before the Rio Olympics," Azizul was quoted as saying on his Facebook status update at Azizulhasni Awang.
He said that he is also thankful that the Menteri Besar did not even respond when contacted by his manager.


"For Datuk MB's information, Fatehah and myself, both World and Olympic class athletes are always unnoticed by you.  Perhaps this is due to the fact that we train abroad.
"We hope that Datuk MB can take all these comments positively and we also hope that this will open your eyes as well as the eyes of those around you, who should have played their parts," he said.
Meanwhile, Amad Razif said that Terengganu Government will provide a special incentive to Azizul on his success.
He added that Azizul's success is meaningful for Terengganu as the Dungun-born lad can compete with other world-class athletes.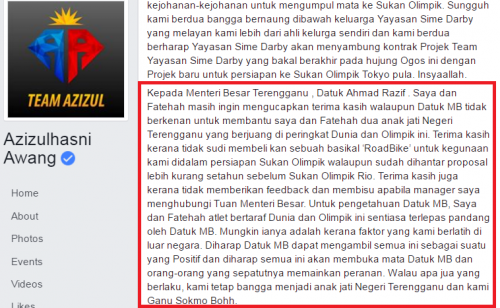 EZY