BY: LIZAWATI MADFA
SHAH ALAM, APR 19: The Umno Minister's statement on the importance of Bangsa Malaysia proves that Barisan Nasional's (BN) racial policies are no longer relevant
Selangor Women's DAP Deputy Chairman, Hannah Yeoh said, it is believed that the important statement issued by Khairy is not a cheap rhetoric to face the election.
She said, the Youth and Sports Minister is seen as genuinely wanting to eradicate all forms of racism.
"Six years ago, when I wanted to register my newborn as Anak Malaysia, BN ridiculed our effort.
"My husband and I were accused of marginalising the Indian race, ethnic cleansing and other malicious accusations.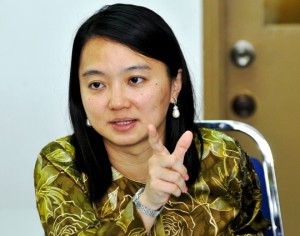 "Hence, Khairy's statement now is very important. Malaysia's future should not be defined by race," she said in a statement.
Last April 17, Khairy said, within the next 30 years, our youths want to be identified as Bangsa Malaysia besides eliminating all differences that separates the races.
"They want a more united identity which is Bangsa Malaysia as it is seen to be more significant rather than racial and ethnic identities.
"This aspiration is not just heard today, but we heard this a lot in the Transformasi Nasional 2050 (TN50) dialogue process before this," said Khairy.