BY: LIZAWATI MADFA
SUBANG JAYA, MAY 4: The public must give their commitment and cooperation to ensure the Sunway Metro Back Lanes Beautification Project achieve its objective.
Subang Jaya Assemblyman, Hannah Yeoh said, Subang Jaya Municipal Council (MPSJ) must also take enforcement actions consistently.
She said, the two factors combined can bring about good results to be practiced by society.
"It will be hard in the beginning but when people see the results, everyone will be satisfied.
"Nevertheless, everyone must be patient and give some space in order to see the effectiveness of an idea or policy which is newly introduced," she said.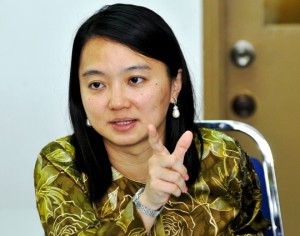 She said that during the Public Participation Programme discussion session for the Sunway Metro Back Lanes Beautification Project yesterday.
Also present were MPSJ Yang Dipertua, Dato' Nor Hisham Ahmad Dahlan and his Deputy, Mohd Zulkurnain Che Ali.
Hannah said, every pioneer project needs its own fine-tuning to achieve its optimum level.
"For example, using barn owl to control rat population, which was right away labelled as a failure when residents can still see rats.
"It doesn't work that way but it needs some time to see its effectiveness, and it requires a lot of research, hence residents must also play their roles," she said.