BY NAZLI IBRAHIM
AMPANG, JUNE 28: When everyone is still on leave, Dato' Menteri Besar, Dato' Seri Mohamed Azmin Ali started his duty today by going down to the grounds to oversee the State's 2017 Eidulfitri Open House for himself.
During the visit which started at 9 a.m. until 11 a.m., Mohamed Azmin brought up several issues to the organising committee to ensure the comfort and safety of the guests who will be attending the event on July 2.
Among the issues emphasized were to ensure that fans are provided in all tents, cleanliness, comfortable eating space and several other technical issues.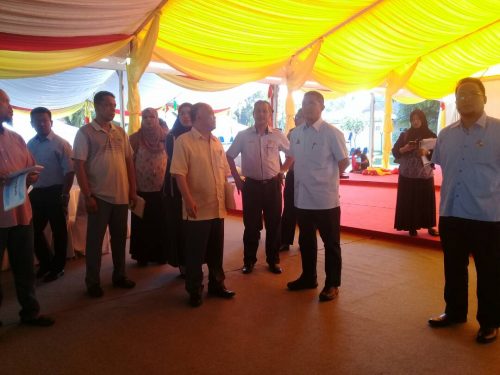 Besides the site visit, Mohamed Azmin was also briefed by the organising committee.
In the briefing, Mohamed Azmin was briefed on all the facilities provided during the event such as shuttle busses, temporary surau and mobile toilets.
His site visit at the Padang Perbandaran Majlis Perbandaran Ampang Jaya (MPAJ) were also accompanied by MPAJ Yang DiPertua, Abd Hamid Hussain the State Financial Officer, Dato' Noordin Sulaiman.